Looking for Tasty Chicken Tender Sides? You've come to the right place! Below we list all of our favorite chicken tender side dishes, including our homemade fries, zesty sauces, and roasted vegetables.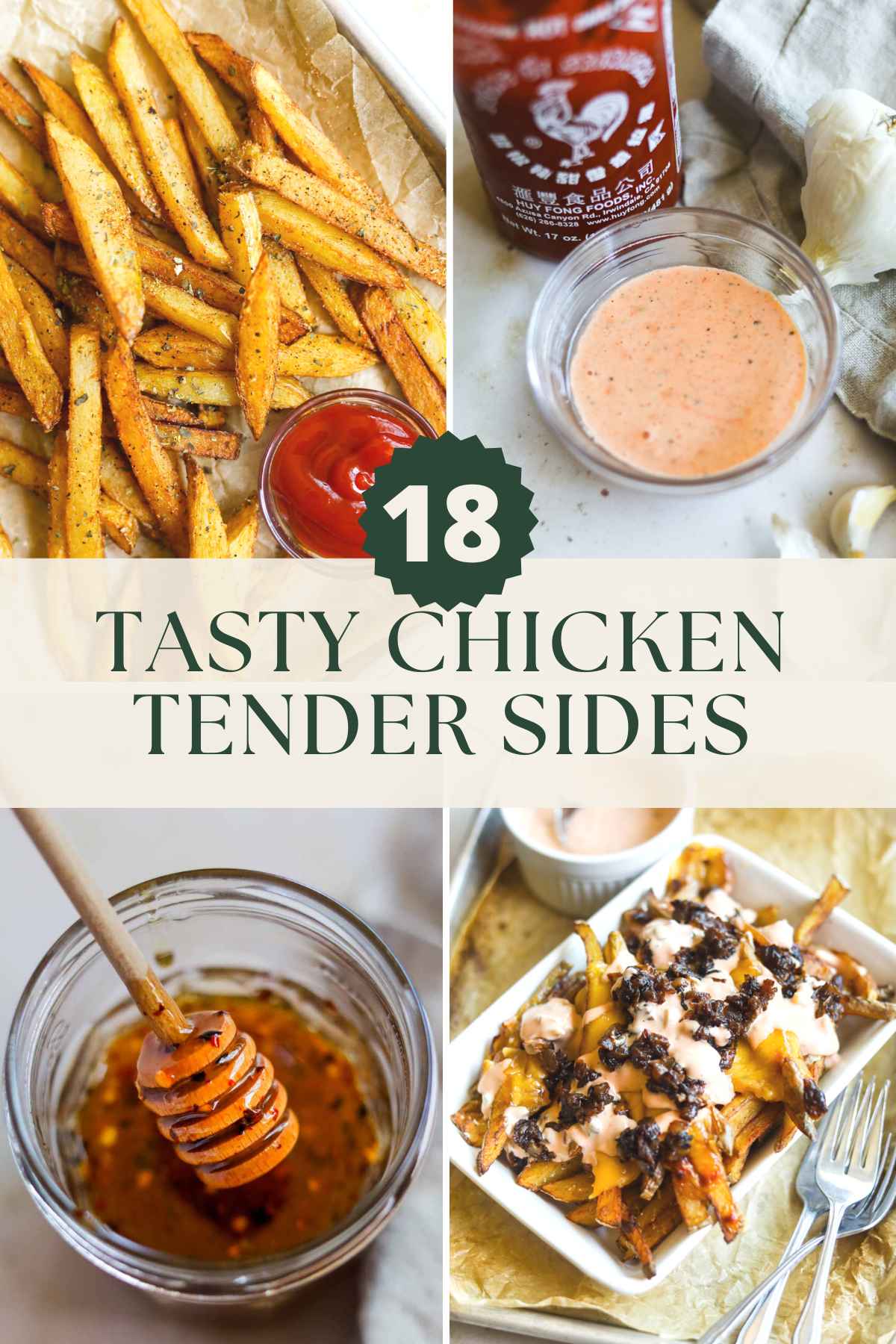 Chicken tenders are one of our go-to lazy meals and we are always experimenting sides to pair with it. Below we've rounded up 18 sides we've found pair deliciously with chicken tenders so you know exactly what to make the next time you have a chicken tenders craving. From sauces to seasoned fries, we have you covered!
If you are looking for an elevated fried chicken recipe, try our Chicken Katsu (Japanese Chicken Cutlet). Chicken katsu is a crispy, golden brown chicken cutlet made with panko breadcrumbs.
1. Homemade Seasoned French Fries
2. Greek Yogurt Ranch Dressing
2. Healthy Corn and Zucchini Fritters
3. Bacon Cheddar Hasselback Potatoes
4. Healthy Greek Yogurt Coleslaw
5. Miso Mashed Potatoes
6. Elotes Style Corn with Furikake
7. Spicy Hot Honey Sauce
8. Roasted Brussel Sprouts with Pancetta
9. Spicy Cajun Fries
10. Jalapeño Cheddar Cornbread with Miso
11. Pan Fried Potatoes with Herbs
12. Ten-Minute Sautéed Broccolini (Broccoletti)
13. Zesty Italian Pasta Salad
14. Chipotle Mayo Sauce
15. Furikake and Lemon Shishito Peppers
16. Animal Style Fries (In-N-Out Copycat)
17. Pear and Prosciutto Rocket Salad
18. Spicy Sriracha Aioli
Related Recipes
Did You Like These Recipes?
All of the above sides will add a delicious new dimension to your chicken tender meal. If you made and enjoyed any of these sides, please rate this post and comment below!
Sign up for THP's newsletter and keep in touch on Instagram, Facebook, Pinterest, TikTok, and YouTube. If you make any of these recipes, tag #theheirloompantry so we can see what you paired with your chicken tenders!