Looking for easy and healthy chicken recipes? Look no further! Below we share all of our favorite low-effort and delicious chicken dinners, including whole roasted chicken, juicy wings, healthy fried chicken, and more!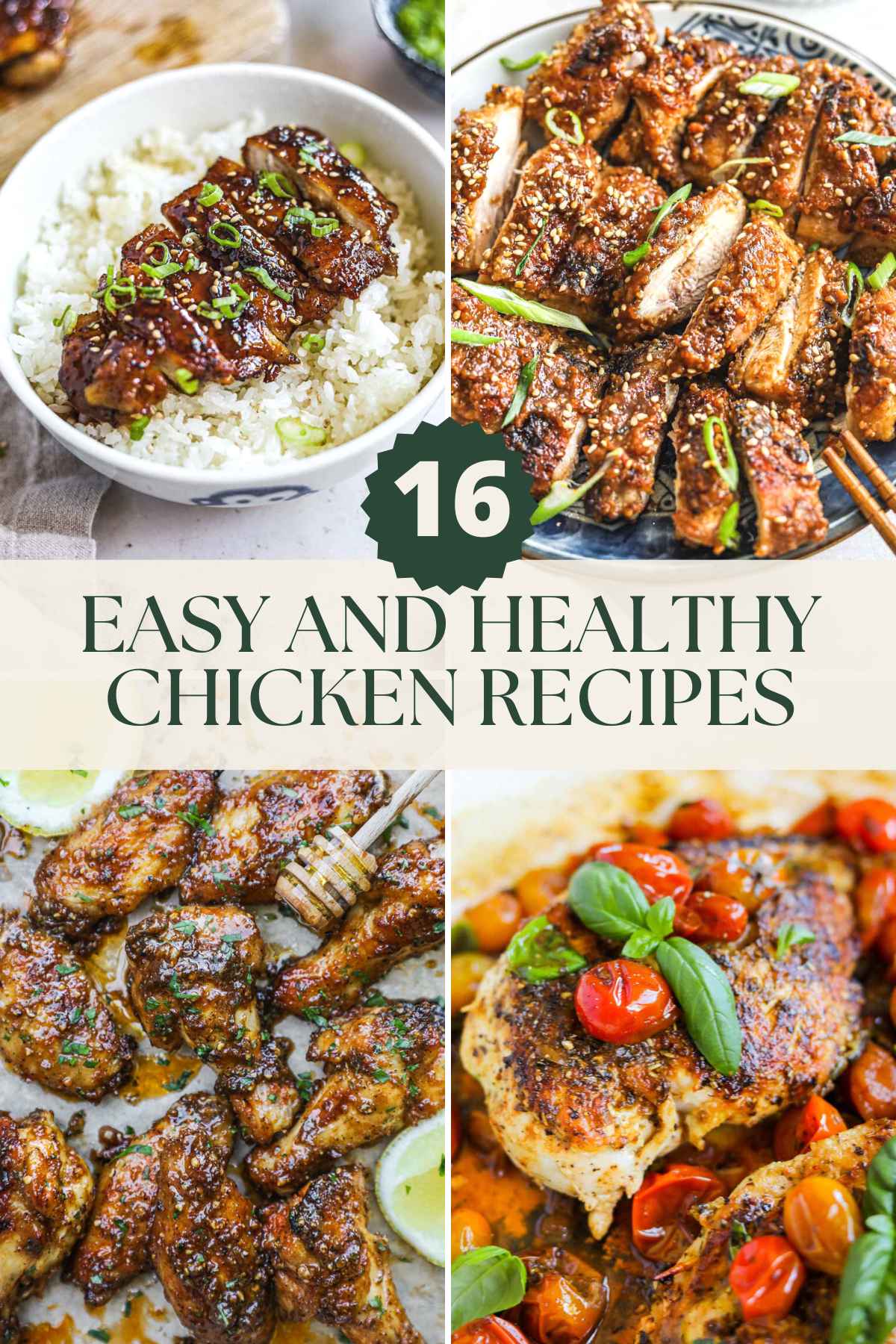 Chicken is one of our favorite meals because it is both healthy and versatile. We love experimenting with chicken recipes that are simple and delicious.
Below we rounded up 16 of our favorite hassle-free chicken dinner ideas so you know exactly what to make next time you are looking for a chicken recipe.
Looking for easy sides to go with your chicken dinner? Try our some of our favorites like our Healthy Corn Fritters, Maple Bacon Brussel Sprouts, Pan Fried Potatoes with Herbs, or Sautéed Broccolini (Broccoletti). Check out our sides page for more inspiration.
1. BBQ Baked Chicken Thighs
2. Mozzarella-Stuffed Chicken Pomodoro
3. Honey Garlic Chicken Wings
4. Roasted Chicken Thighs and Vegetables
5. Cast Iron Chicken Breast With Garlic Butter
6. BBQ Pulled Chicken Burgers
7. Miso Jidori Chicken Thighs
8. BBQ Chicken Salad With Greek Yogurt Ranch
9. Mango Habanero Chicken Wings
10. Chicken Sausage Pesto Pasta With Rapini
11. Dutch Oven Whole Chicken With Meyer Lemon
12. Chicken Katsu (Japanese Chicken Cutlet)
13. Fig Balsamic Glazed Chicken
14. Teriyaki Chicken
15. Roasted Chicken Stuffed With Wild Rice
16. Honey Lemon Pepper Chicken Wings
Related Recipes
Did You Like This Recipe?
Love these easy chicken recipes? Please leave a 5-star rating in the recipe card below and leave a comment below. Thanks!
Sign up for THP's newsletter and keep in touch on Instagram, Facebook, Pinterest, TikTok, and YouTube. If you make this recipe, tag #theheirloompantry so we can see your chicken dinner!