Want to make a delicious side but don't know where to begin? Explore our favorite easy side dishes that pair seamlessly with a variety main courses. These dishes include pan fried and mashed potatoes, quick and flavorful veggies, salads, and more.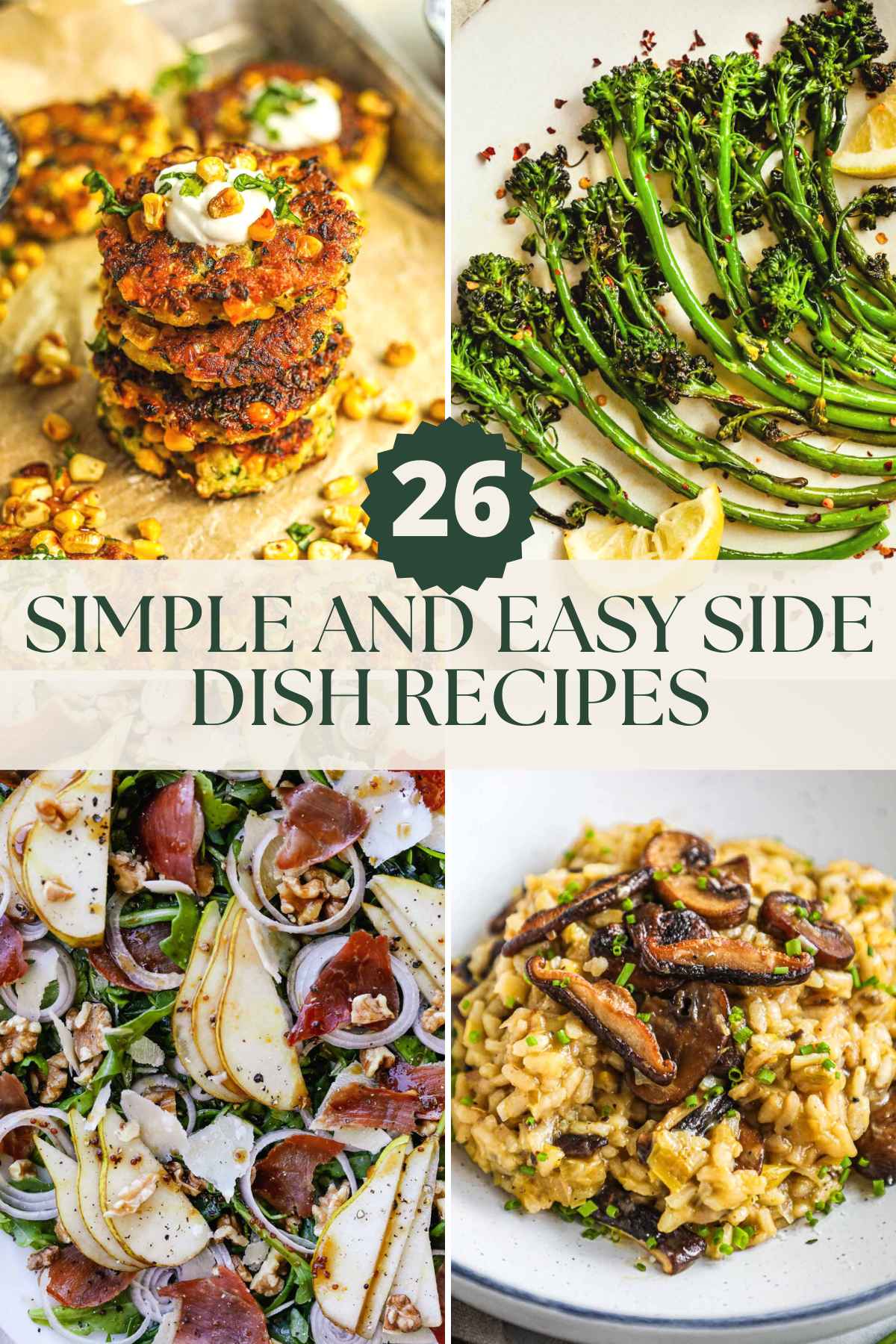 These easy side dishes are staples in our weekly dinner rotation. Usually, we make them with a simple weeknight dinner that also requires minimal prep and effort. Some of our favorite easy meals include our Baked Furikake Salmon, BBQ Chicken Thighs, Prosciutto Ricotta Pizza, or Turkey and Quinoa Stuffed Bell Peppers,
Below we've rounded up 26 of our favorite simple sides so you know exactly what to make for your next weeknight meal.
1. Pan Fried Potatoes with Herbs
2. Healthy Corn and Zucchini Fritters
3. Maple Bacon Brussel Sprouts
4. Bacon Cheddar Hasselback Potatoes
5. Elotes Style Corn with Furikake
6. Truffle Mushroom & Leek Risotto
7. Furikake and Lemon Shishito Peppers
8. Pear and Prosciutto Rocket Salad
9. Sautéed Broccolini (Broccoletti)
10. Miso Glazed Eggplant
11. Creamy Parmesan Polenta
12. Blistered Cherry Tomatoes
13. Spicy Kani Salad
14. Sautéed Mushrooms with Garlic and White Wine
15. Jalapeño Cheddar Cornbread With Miso
16. Roasted Asparagus with Parmesan
17. Spicy Ahi Poke
18. Miso Mashed Potatoes
19. Healthy Greek Yogurt Coleslaw
20. Oven Roasted Onions
21. Zesty Italian Pasta Salad
22. Sautéed Buttered Leeks
23. Oven Roasted Butternut Squash
24. Teriyaki Tofu & Eggplant
25. Parmesan Truffle Fries With Truffle Aioli
26. Japanese Cucumber Salad (Sunomono)
Related Recipes
Did You Like These Recipes?
Love these easy side dish recipes? Leave a 5-star rating in the recipe card below and leave a comment below. Thanks!
Sign up for THP's newsletter and keep in touch on Instagram, Facebook, Pinterest, TikTok, and YouTube. If you make any of these recipes, tag #theheirloompantry so we can see your yummy side dish!