Wondering What to Eat with White Rice? We have you covered! Below we list all of our favorite dishes that pair perfectly with white rice. These dishes include buttery fish, juicy chicken and steak, yolky eggs, sushi, and more.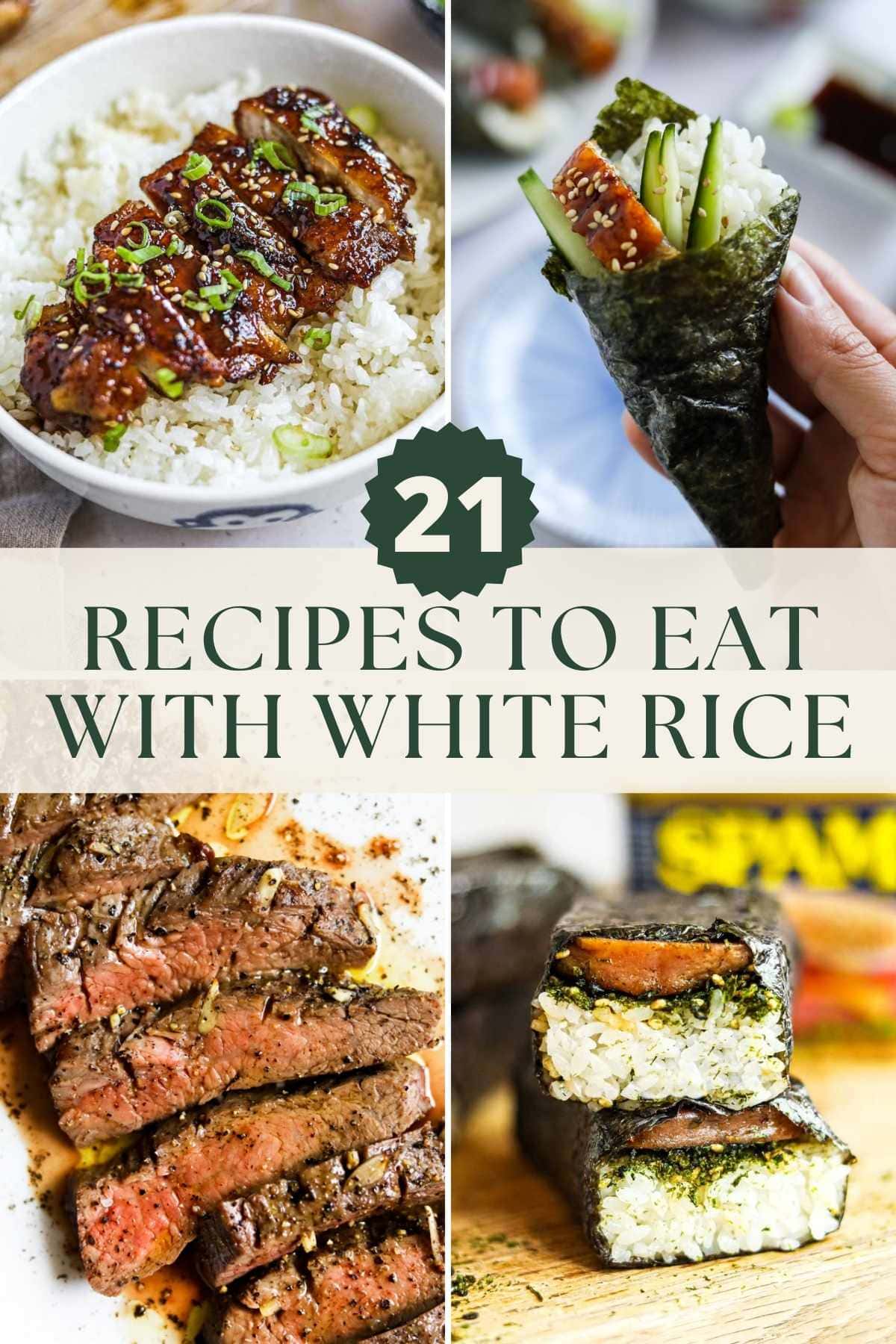 White rice is a great side or foundation for a well-rounded meal. It goes with just about any dish and is very easy to make. There are endless tasty possibilities with white rice!
White rice comes in many different varieties, including long grain, short grain, Japanese rice, basmati, jasmine, and arborio to name a few. Each type varies in length, stickiness, fluffiness, and flavor.
Japanese white rice is a staple in our house because it's so easy to make and goes well with just about everything. It's light flavor and firm texture complements so many dishes.
What can you add to plain white rice?
Looking for a way to spice up your white rice? Try it with furikake! Furikake is a Japanese seaweed seasoning that is packed with umami flavor.
Steamed rice pairs perfectly with salmon, chicken, steak, chili, and breakfast meats. We also make it for all kinds of sushi! Below we've rounded up 21 of our favorite recipes we enjoy with rice so you know exactly what to make with white rice for your next meal.
1. Teriyaki Chicken Donburi
2. Furikake Salmon
3. Breakfast Fried Rice
4. Spam Musubi
5. Bavette Steak
6. Crunchy California Roll
7. Chicken Katsu
8. Soft Boiled Eggs
9. Teriyaki Salmon Don
10. Unagi Hand Roll
11. Buttery Fish with Crispy Skin
12. Bacon and Egg Breakfast Rice bowl
13. Ikura Donburi
14. Furikake and Lemon Shishito Peppers
15. Scrambled Eggs
16. Dutch Oven Whole Chicken
17. Spicy Ahi Poke
18. Thick and Healthy Turkey Chili
19. Spam, Eggs, and Rice
20. Broiled Salmon Collars
21. Unagi Don (Unadon)
Related Recipes
Did You Like This Recipe?
Love these white rice recipes? Please leave a 5-star ????? rating in the recipe card below & consider leaving a comment below. Thanks!