Looking for easy and delicious Lazy Sunday Dinner Ideas? You've come to the right place! We share all of our favorite low effort and tasty dinners, including quick pastas, succulent chicken, buttery fish, and more.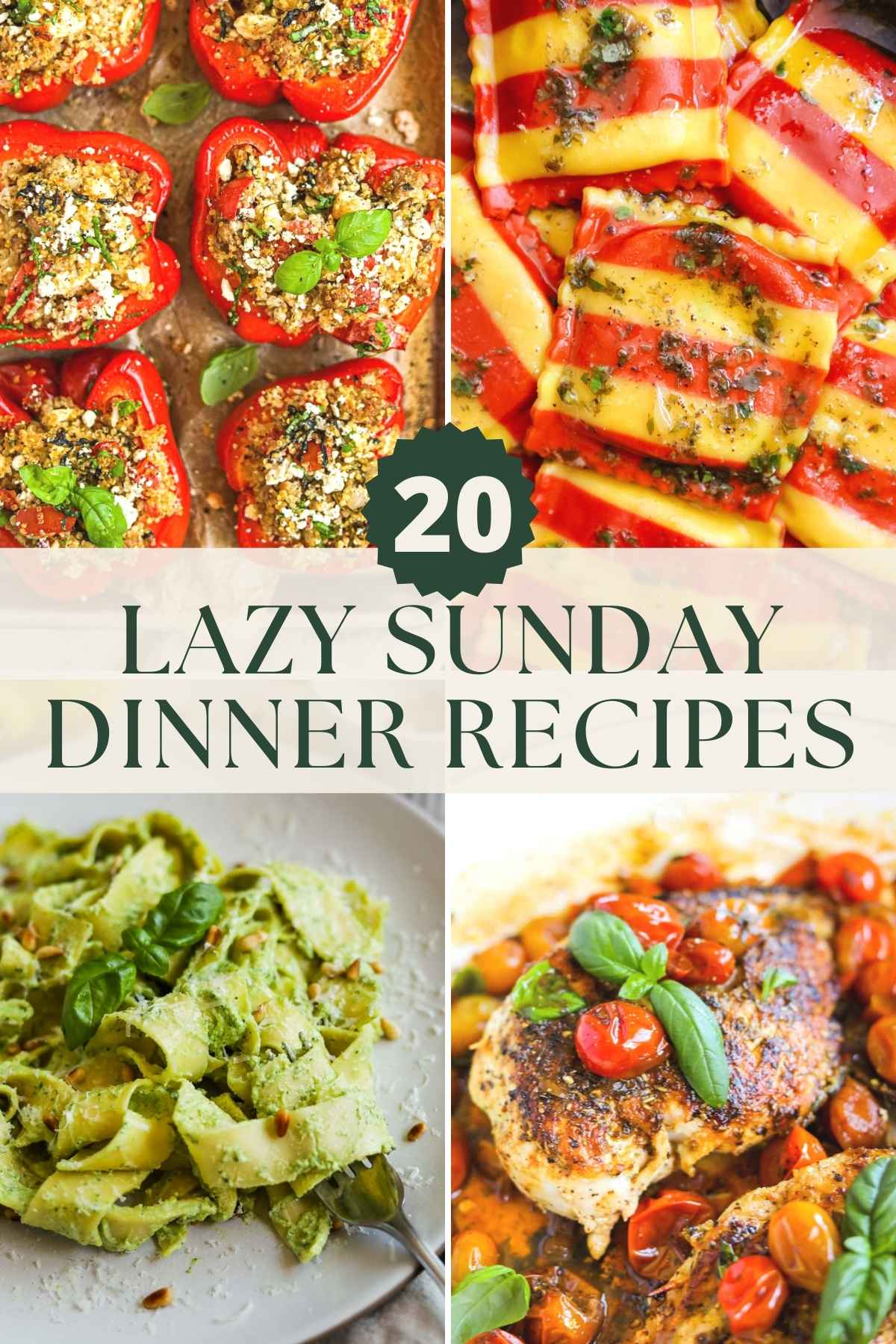 On Sundays, we like to relax before we start our busy weeks. For dinner, we usually make something simple that doesn't require much effort or cleanup.
We rounded up 20 of our favorite low-maintenance lazy Sunday dinner ideas so you know exactly what to make for your next lazy Sunday.
Looking for sides to go with your Sunday dinner? Try our some of our favorites like our Healthy Corn Fritters, Teriyaki Tofu and Eggplant, Furikake and Lemon Shishito Peppers, or Pan Fried Potatoes with Herbs. Check out our sides page for more inspiration.
1. Baked Furikake Salmon
2. Traditional Bolognese Sauce (Ragù alla Bolognese)
3. Roasted Chicken Thighs and Vegetables
4. Prosciutto Ricotta Pizza
5. Veggie Pesto Pasta
6. Italian Beef Soup (Brodo di Carne)
7. Bavette Steak (Flank Steak)
8. Buttery Fish with Crispy Skin
9. Mozzarella-Stuffed Chicken Pomodoro
10. Lobster Ravioli with Lemon Garlic Browned Butter Sauce
11. BBQ Baked Chicken Thighs
12. Flank Steak Salad with Balsamic Dressing
13. Teriyaki Salmon
14. Cast Iron Skillet Burger
15. Creamy Pesto Pasta
16. Turkey and Quinoa Stuffed Bell Peppers
17. Broiled Salmon Collars
18. Eggplant Pasta (Pasta alla Norma)
19. Hawaiian Roll Turkey Pesto Sliders
20. Teriyaki Chicken
Related Recipes
Did You Like This Recipe?
Love these easy Sunday dinner recipes? Please leave a 5-star rating in the recipe card below and leave a comment below. Thanks!
Sign up for THP's newsletter and keep in touch on Instagram, Facebook, Pinterest, TikTok, and YouTube. If you make any of these recipes, tag #theheirloompantry so we can see your dinner creation!