Not sure What Goes With Cornbread? We got you covered! Below we list all of our favorite dishes that pair perfectly with cornbread, including hearty chili, BBQ chicken, juicy steak, hot honey, and more.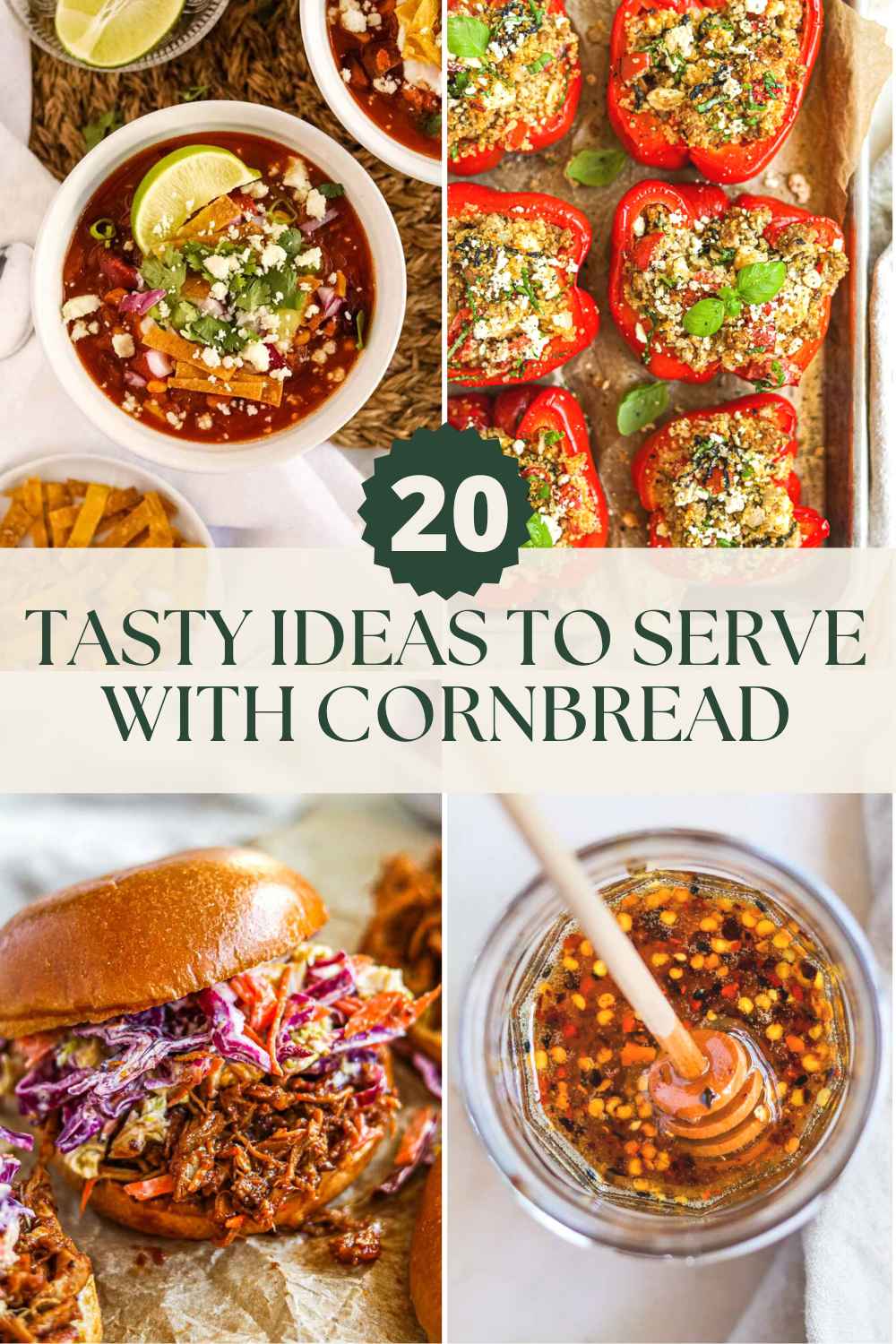 Cornbread is a versatile and hearty side. We love it with our homemade turkey chili, but it goes well with so many other dishes. It is also surprisingly delicious on its own for as a snack. Below we've rounded up 20 dishes that pair deliciously with cornbread so you know exactly what to make for your next cornbread dinner.
If you are looking for a rich and unique cornbread recipe, check out our Jalapeño Cheddar Cornbread with Miso. It is moist, cheesy, and packed with umami flavor. Not only is it delicious, it requires minimal effort to make!
1. Thick & Healthy Turkey Chili
2. BBQ Baked Chicken Thighs
3. Bavette Steak (Flank Steak)
4. Spicy Hot Honey Sauce
5. BBQ Pulled Chicken Burgers
6. Buttery Fish with Crispy Skin
8. Garlic Herb Butter
9. Turkey and Quinoa Stuffed Bell Peppers
10. Hawaiian Roll Turkey Pesto Sliders
11. Zesty Italian Pasta Salad
12. Cast Iron Skillet Burger
13. Cast Iron Chicken Breast With Garlic Butter
14. Flank Steak Salad
15. Spiced Vegan Butternut Squash Soup
16. Classic Egg Salad
17. Healthy Corn and Zucchini Fritters
18. Maple Bacon Brussel Sprouts
19. Dutch Oven Whole Chicken with Meyer Lemon
20. Miso Mashed Potatoes
Related Recipes
Did You Like These Recipes?
All of the above recipes will bring a new dimension to your cornbread dinner. If you made and enjoyed any of these dishes, please leave a 5-star rating in the recipe card below & leave a comment below. Thanks!
Sign up for THP's newsletter and keep in touch on Instagram, Facebook, Pinterest, TikTok, and YouTube. If you made any of these recipes, tag #theheirloompantry so we can see your tasty creation!