Wondering What to Serve with Baked Potatoes? Below we list all of our favorite dishes that pair perfectly with baked potatoes, including main dishes, like tender chicken and juicy steak, tasty toppings, like crispy prosciutto and herbed garlic butter, and more.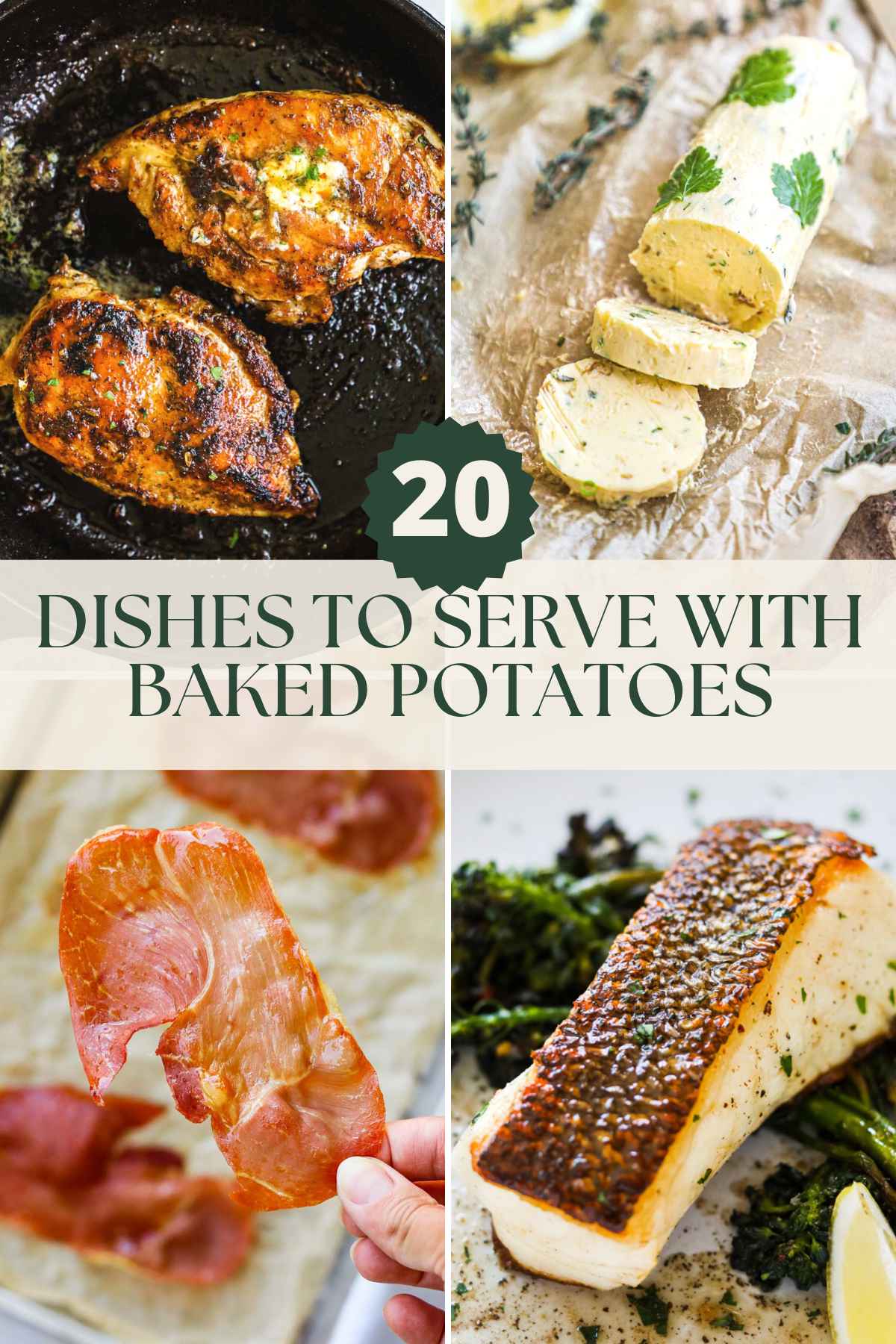 Baked potatoes are a hearty and underrated side. We love to customize them and are are always experimenting with new toppings and main courses to pair with them. Below we've rounded up 20 dishes that pair seamlessly with baked potatoes so you know exactly what to make the next time you are craving baked potatoes.
We love a classic baked potato for an easy weeknight side. If you are looking for a crispier potato recipe, check out our decadent Bacon Cheddar Hasselback Potatoes.
1. BBQ Baked Chicken Thighs
2. Bavette Steak (Flank Steak)
3. Buttery Fish with Crispy Skin
4. Garlic Herb Butter
5. Cast Iron Chicken Breast With Garlic Butter
6. Cast Iron Skillet Burger
7. Thick & Healthy Turkey Chili
8. Greek Yogurt Ranch Dressing
9. Mozzarella-Stuffed Chicken Pomodoro
10. Baked Furikake Salmon with Kewpie Mayo
11. Healthy Corn and Zucchini Fritters
12. BBQ Pulled Chicken Burgers
13. Parmesan Frico (Cheese Crisps)
14. Elotes Style Corn with Furikake
15. Maple Bacon Brussel Sprouts
16. Crispy Prosciutto
17. Dutch Oven Whole Chicken with Meyer Lemon
18. Pear and Prosciutto Rocket Salad
19. Chicken Katsu (Japanese Chicken Cutlet)
20. Broiled Miso Glazed Salmon
Related Recipes
Did You Like These Recipes?
All of the above recipes will pair deliciously with baked potatoes. If you made and enjoyed any of these dishes, please leave a 5-star rating in the recipe card below & leave a comment below. Thanks!
Sign up for THP's newsletter and keep in touch on Instagram, Facebook, Pinterest, TikTok, and YouTube. If you made any of these recipes, tag #theheirloompantry so we can see your tasty creation!