Not sure What to Eat with Asparagus? Below we list all of our favorite dishes that pair perfectly with asparagus, including tender chicken, juicy steak, zesty pasta, decadent risotto, stuffed peppers, and more!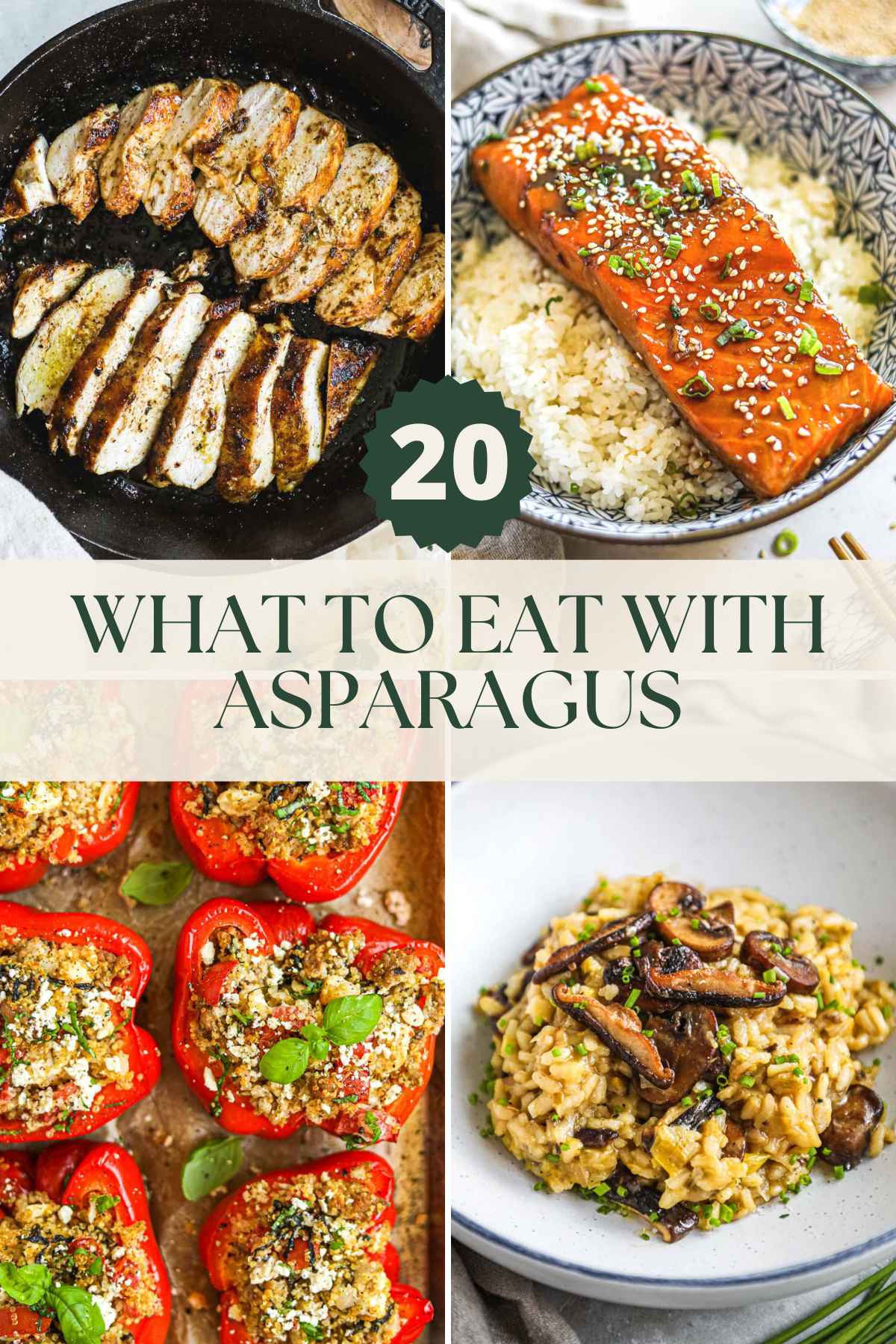 Asparagus is one of our go to sides because it pairs well with so many dishes. We typically make our Roasted Asparagus with Parmesan with a main course then enjoy both for a couple nights in a row. We love our Roasted Asparagus With Parmesan because it is bright, flavorful, and easy to make.
Below we've rounded up 20 of our favorite recipes that we enjoy with asparagus so you know exactly what to make with asparagus for your next dinner. Now you'll know exactly what to eat with asparagus!
1. BBQ Baked Chicken Thighs
2. Bavette Steak (Broiled Garlic Flank Steak)
3. Buttery Fish with Crispy Skin
4. Veggie Pesto Pasta With Zucchini and Asparagus
5. Cast Iron Chicken Breast With Garlic Butter
6. Truffle Mushroom and Leek Risotto
7. Turkey and Quinoa Stuffed Bell Peppers
8. Cast Iron Skillet Burger
9. Baked Furikake Salmon
10. Creamy Parmesan Polenta with Cheese Crisps
11. Chicken Katsu (Japanese Chicken Cutlet)
12. Healthy Corn and Zucchini Fritters
13. Hawaiian Roll Turkey Pesto Sliders
14. Teriyaki Salmon
15. Teriyaki Chicken
16. BBQ Pulled Chicken Burgers
17. Miso Mashed Potatoes
18. Mozzarella-Stuffed Chicken Pomodoro
19. Hamachi Kama (Broiled Yellowtail Collar)
20. Fig Balsamic Glazed Chicken
Related Recipes
Did You Like This Recipe?
Love these easy recipes to enjoy with asparagus? Please leave a 5-star ????? rating in the recipe card below and leave a comment below. Thanks!
Sign up for THP's newsletter and keep in touch on Instagram, Facebook, Pinterest, TikTok, and YouTube. If you make this recipe, tag #theheirloompantry so we can see your creation!