Wondering what side dishes to serve with chili? Below we list all of our favorite chili side dishes, including cornbread, crispy tortilla strips, and scrumptious veggies.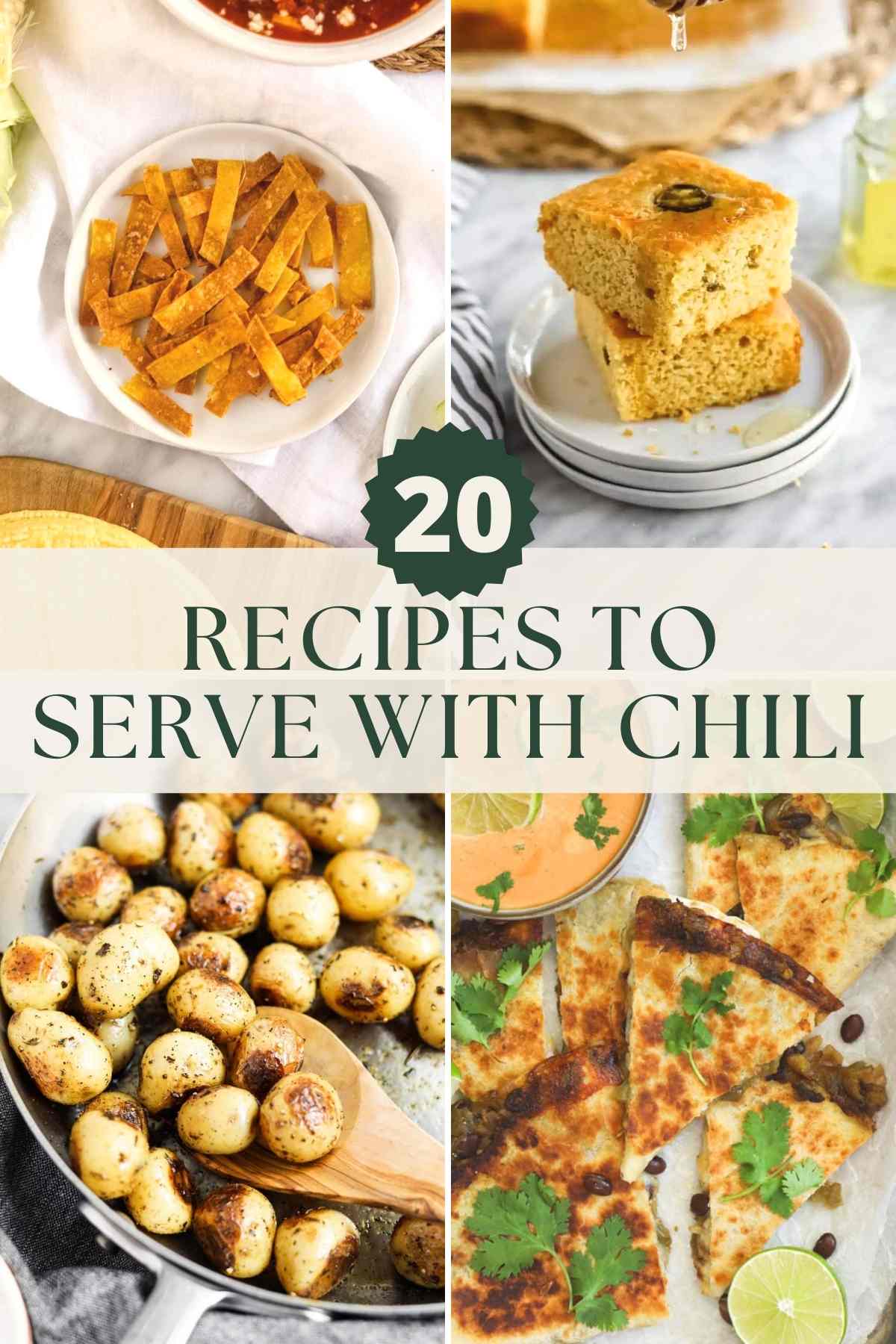 A big bowl of chili is one of our favorite comfort food. When the temperatures drop, we love to make a big batch for a few nights in a row and pair it with one fo the below sides. Each of these 20 dishes will pair deliciously with chili so you know exactly what to make next time you want to make chili.
If you are looking for a hearty chili recipe, try our Turkey Chili. It takes just 45 minutes to make and features lean turkey, corn, kidney beans, and bell pepper.
Our chili makes enough for 3 to 4 nights so it is a great option for weekly meal planning. Our recipe also includes instructions for Crispy Tortilla Strips and a healthy Greek yogurt mixture to top the chili!
1. Jalapeño Cheddar Cornbread with Miso
2. Crispy Baked Tortilla Strips
3. Healthy Corn and Zucchini Fritters
4. Homemade Seasoned French Fries
5. Elotes Style Corn with Furikake
6. 10-Minute Sautéed Broccolini (Broccoletti)
7. Cheese Quesadilla with Pan Roasted Vegetables
8. Parmesan Frico (Cheese Crisps)
9. Bacon Cheddar Hasselback Potatoes
10. Harvest Salad with Quinoa and Arugula
11. Sautéed French Green Beans with Furikake
12. Pan Fried Potatoes with Herbs
13. Pear and Prosciutto Rocket Salad
14. Roasted Asparagus with Parmesan
15. White Rice
16. Roasted Brussel Sprouts with Pancetta
17. Oven Roasted Onions
18. Oven Roasted Butternut Squash
19. Miso Mashed Potatoes
20. Vegetable Wild Rice
Top Tips
Since chili usually take from 30 minutes to 2 hours to cook, time it so your sides are finished cooking at the same time as your chili. You can also make your sides ahead of time and reheat them when your chili is ready.
Enjoy just cup of chili instead of a whole bowl and make a couple of these sides for a complete meal.
For salad sides, make ahead of time and dress when you are ready to serve your salmon so the lettuce leaves don't wilt or get soggy.
Related Recipes
Did You Like This Recipe?
Love these chili sides? Please leave a 5-star rating in the recipe card below and leave a comment below. Thanks!
Sign up for THP's newsletter and keep in touch on Instagram, Facebook, Pinterest, TikTok, and YouTube. If you made any of these recipes, tag #theheirloompantry so we can see your tasty chili side dish!