Looking for a Simple & Easy Japanese Recipe? Check out our top 25 Japanese recipes that are both delicious and require minimal effort to prepare. These dishes include juicy chicken, tender fish, umami-flavored veggies, ramen, sushi, and more.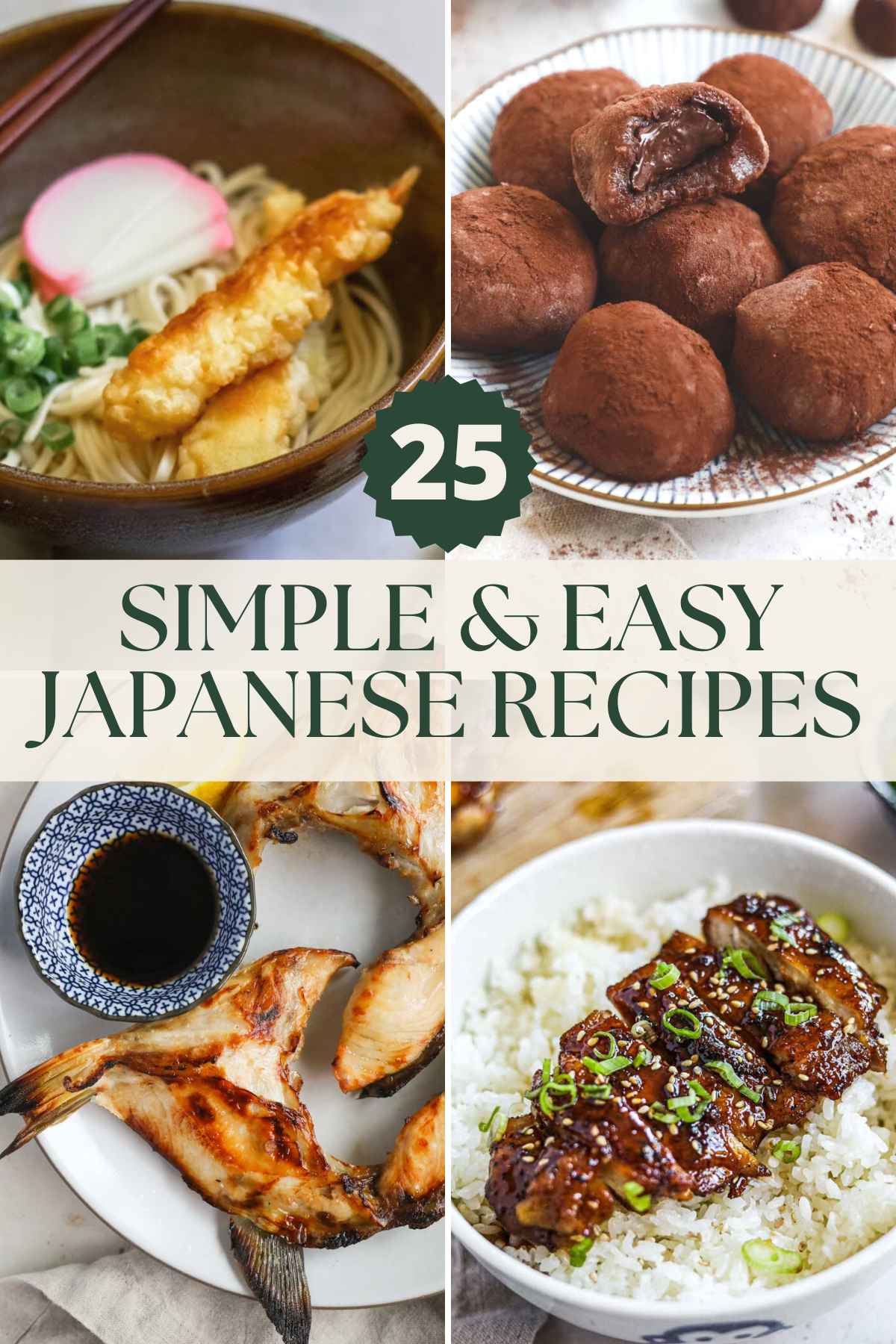 We eat Japanese food almost every day. We often eat light Japanese lunches like a tamago sando, teriyaki chicken donburi, or onigiri. We also enjoy more complete Japanese dinners like chicken katsu or furikake salmon with veggies like furikake and lemon shishito peppers or miso eggplant.
Below we've rounded up 25 of our favorite simple and easy Japanese recipes so you know exactly what to make the next time you are in the mood for Japanese food. All of these recipes are flavor packed, have a short cook and prep time, and easy cleanup.
1. Teriyaki Chicken Donburi
2. Baked Furikake Salmon with Kewpie Mayo
3. Furikake and Lemon Shishito Peppers
4. Chicken Katsu (Japanese Chicken Cutlet)
5. Spicy Tuna Onigiri (Japanese Rice Balls)
6. Miso Glazed Eggplant
7. Ajitama (Soft-Boiled Ramen Eggs)
8. Spicy Ahi Poke
9. Soft and Chewy Matcha Cookies
10. Spam Musubi
11. Spicy Kani Salad
12. Unagi Hand Roll
13. Vanilla Matcha Latte
14. Tamago Sando (Japanese Egg Salad Sandwich)
15. Crunchy Spicy California Roll
16. Uni Pasta (Sea Urchin Cacio e Pepe)
17. Gluten Free Mochi Waffles (Simple & Easy)
18. Hamachi Crudo (Yellowtail Carpaccio)
19. Teriyaki Tofu & Eggplant
20. Ikura Donburi
21. Hamachi Kama (Broiled Yellowtail Collars)
22. Shrimp Tempura Udon
23. Miso Salmon Crudo (Carpaccio)
24. Chocolate Truffle Mochi
25. Teriyaki Salmon Don
Related Recipes
Did You Like This Recipe?
Love these easy simple Japanese dishes? Please leave a 5-star ????? rating in the recipe card below & leave a comment below. Thanks!
Sign up for THP's newsletter and keep in touch on Instagram, Facebook, Pinterest, TikTok, and YouTube. If you made any of these recipes, tag #theheirloompantry so we can see your tasty Japanese creation!