Looking for Healthy Sides for Sandwiches? We have you covered! Below we list all of our favorite healthy sandwich side dishes, including cozy soups, seasoned fries, and hearty salads.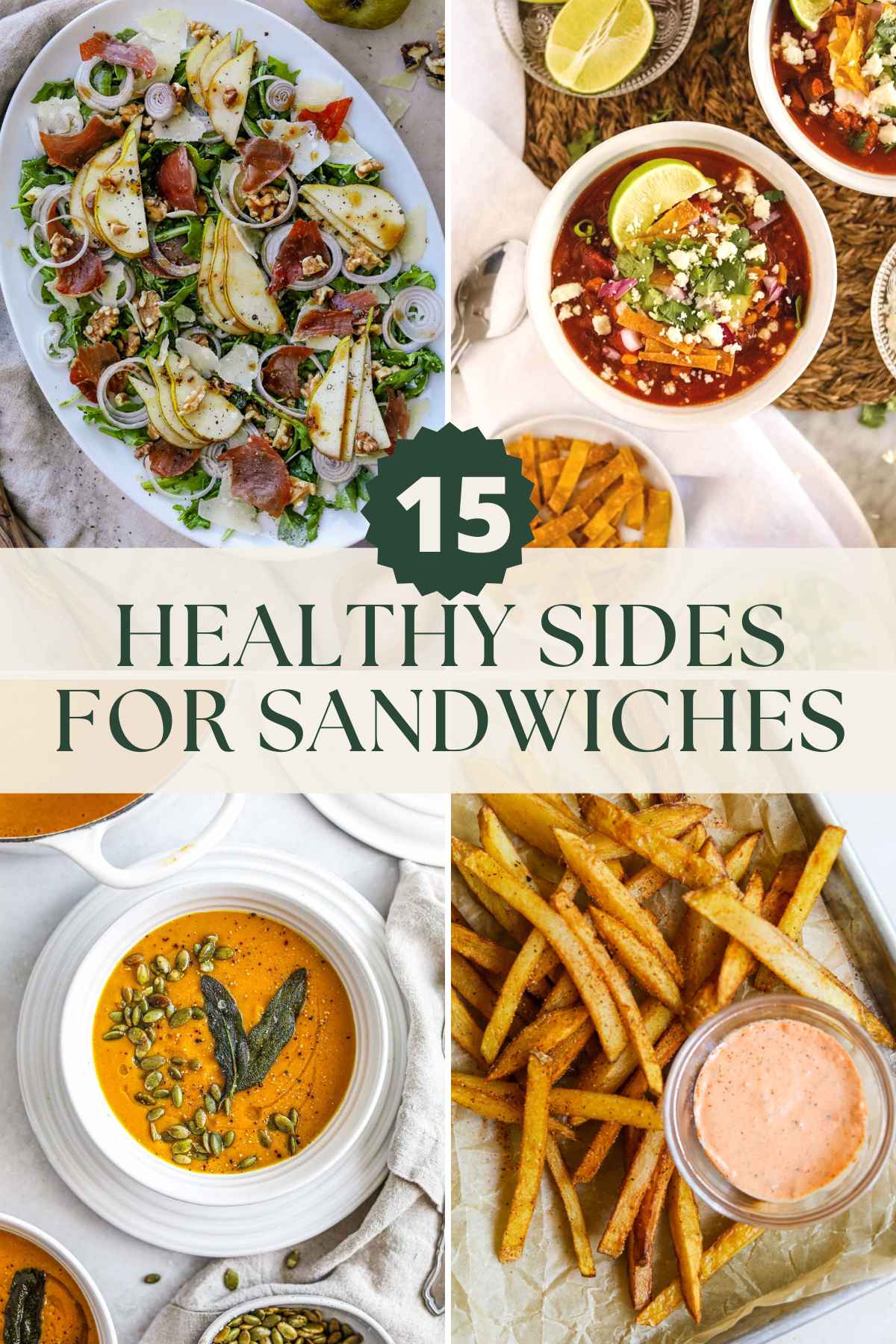 We eat sandwiches for lunch all the time. Since we want to be healthy, we try to avoid unhealthy sides like chips or overly fried food foods. Instead, we opt for healthy sides like homemade french fries or a salad. Below we've rounded up 15 healthy options that pair perfectly with sandwiches so you know exactly what to make next time you get a you want a sandwich, but also want to eat healthy.
If you are looking for a sandwich recipe, try our BBQ Pulled Chicken Sandwiches, Hawaiian Roll Turkey Pesto Sliders, or Caprese Sandwich with Truffle Salt. Our BBQ Pulled Chicken sandwiches are an easy slow cooker recipe that can be enjoyed for days on end. The Hawaiian roll sliders are the perfect shareable sandwich for a cozy day. If you want a lighter sandwich, our Caprese sandwiches are perfect. They feature creamy mozzarella, ripe tomatoes, fresh basil, olive oil and balsamic vinegar, and truffle salt.
1. Pear and Prosciutto Rocket Salad
2. Homemade Seasoned French Fries
3. Elotes Style Corn with Furikake
4. Healthy Greek Yogurt Coleslaw
5. Jalapeño Cheddar Cornbread with Miso
6. Healthy Corn and Zucchini Fritters
7. Harvest Salad with Quinoa and Arugula
8. Pan Fried Potatoes with Herbs
9. Thick & Healthy Turkey Chili
10. Spicy Cajun Fries
11. Zesty Italian Pasta Salad
12. Burrata Caprese with Balsamic Glaze
13. Spiced Vegan Butternut Squash Soup
14. Make a BBQ Salad (With or Without Chicken)
15. Spicy Kani Salad
Related Recipes
Did You Like This Recipe?
Love these healthy sides for sandwiches? Please leave a 5-star ????? rating in the recipe card below & consider leaving a comment below. Thanks!