While I love a traditional Thanksgiving, it is fun to add a healthy, California twist to any holiday meal. The California Thanksgiving menu is an ode to the bright and fresh flavors of California. From Dutch Oven Whole Chicken with Meyer Lemon to Harvest Quinoa Salad with Arugula, you will feel transported to California with every bite (earthquakes not included).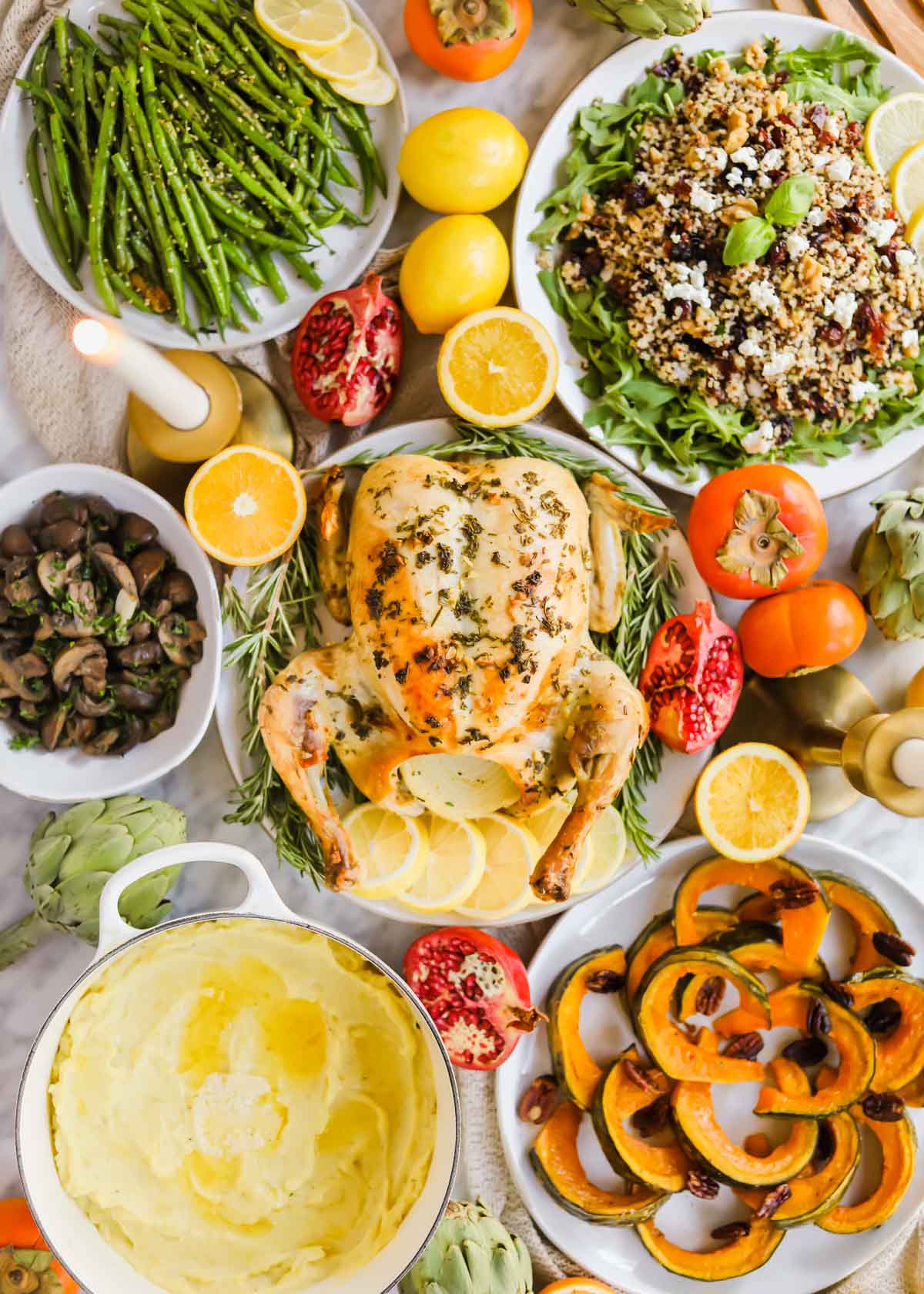 Delicious and Nutritious: The California Thanksgiving Menu
When I created The California Thanksgiving menu, balancing nutrition and flavor was top of mind. I don't ever want my readers to feel like this is a dreaded "low-fat" meal; I want to instead showcase the flavors you can get from fewer, high-quality ingredients. With the exception of the Dutch Oven Whole Chicken with Meyer Lemon, all of the dishes are vegetarian and can be easily made vegan. While I am a fan of meat and all of its yummy fats, it is possible to make vegetarian dishes full of the flavors that satisfy you.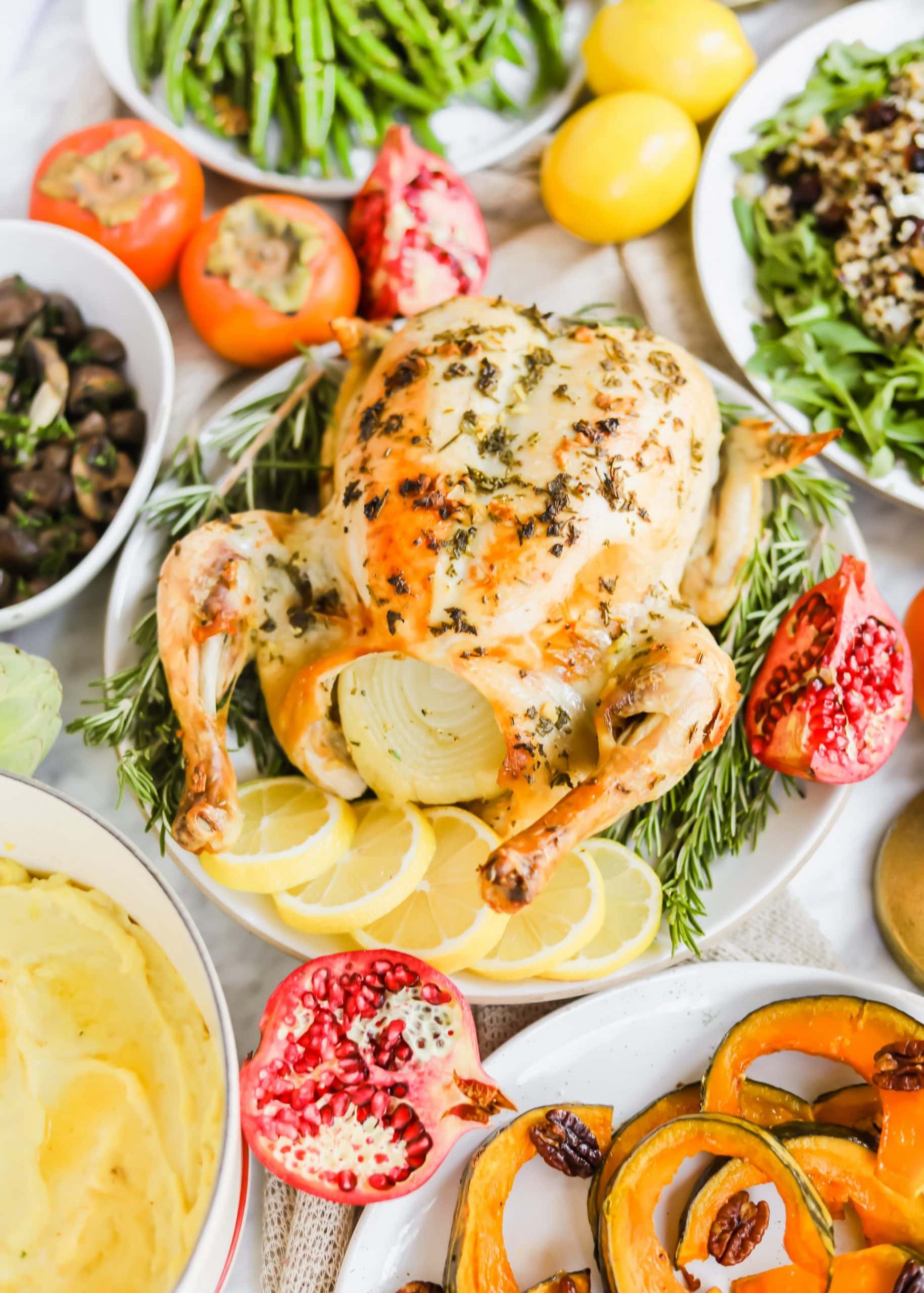 Not Your Grandma's Greens
When most people think of green beans, Brussel sprouts, peas, and salads, they shutter at the memories of sad, boiled vegetables. These greens are far from that. On this Thanksgiving menu, you will find Harvest Quinoa Salad with Arugula and Sautéed Green Beans with Furikake. These greens are bright and full of flavors, like savory furikake, creamy sharp goat cheese, and lemony herbs.
Earthy Fall Dishes
To balance the greens, I incorporated earthy flavors found in Maple Roasted Kabocha Squash with Pecans and Sautéed Mushrooms with White Wine. The warm flavors of the pecans, maple syrup, and Japanese kabocha squash feel like a warm hug. The white wine and parsley in the sautéed mushrooms add a fragrant, earthy element to your plate. Both lay the foundation for the greens, starch, and protein on the menu.
A California Twist on Two Classics
There are two sacred dishes at every Thanksgiving table: mashed potatoes and turkey. While I love these two classics, I wanted to recreate the dishes with an added twist, so that they felt new, but also nostalgic and familiar. I added miso butter to mashed potatoes, as seen in Miso Mashed Potatoes. In lieu of a turkey, I opted for a lemony, herby Dutch Oven Whole Chicken with Meyer Lemon. Each bite of these dishes will still feel like you're home for the holidays.
Cooking Essentials
To check out all of the equipment I used to create this meal, head to the Heirloom Pantry Amazon Shop.
For all of my traditional Thanksgiving recipes, check out: Roasted Turkey Roulade, Roasted Garlic Mashed Potatoes, Classic Gravy, Maple Brussel Sprouts with Pancetta, Cranberry Sauce, and Herb & Mushroom Dressing. Happy Thanksgiving!