Oat Milk Hot Chocolate is a creamy vegan, dairy-free hot cocoa recipe made with oat milk, cocoa powder, real chocolate, cinnamon, and vanilla bean paste. This rich hot cocoa takes only a few minutes to make and will quickly become your favorite cozy drink!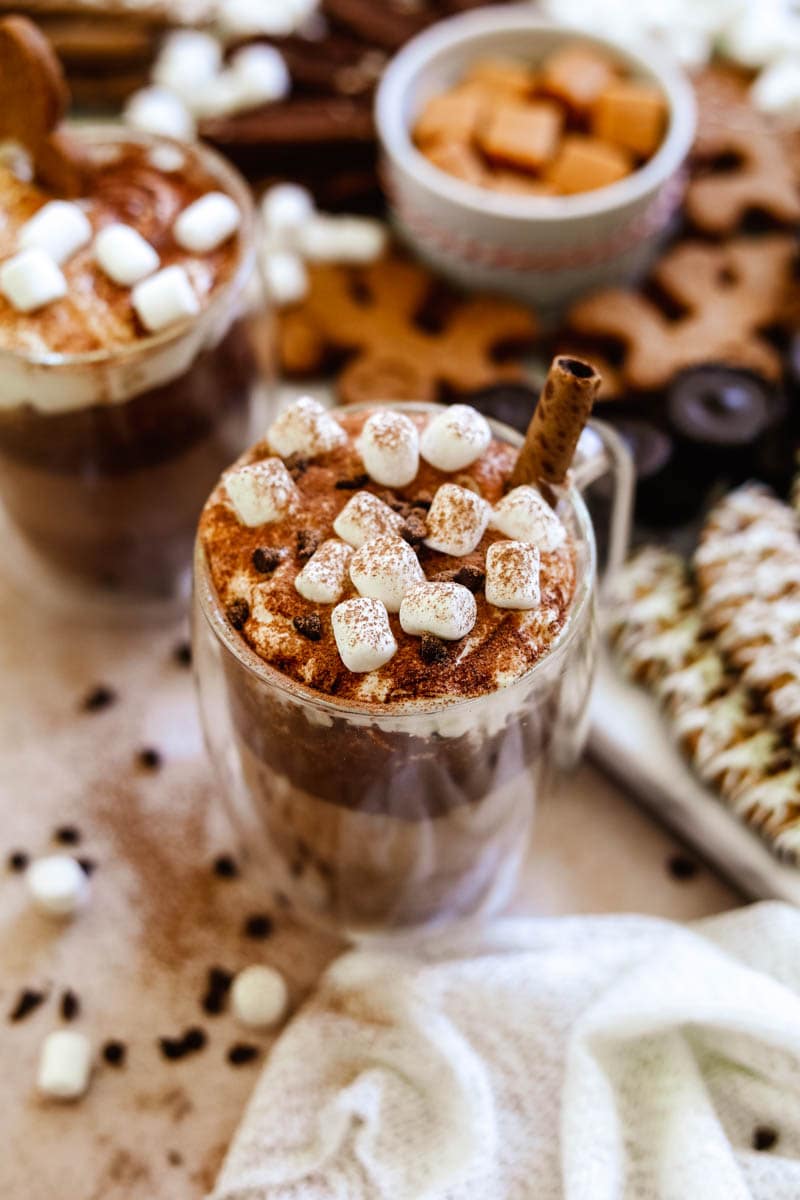 So far this holiday season, we have made this hot chocolate recipe more times than we can count. Not only does it warm you up, it also provides the perfect balance of flavors. The rich chocolate flavor satisfies any sweet tooth while the lightness of the oat milk keeps you from feeling overstuffed. It's so rich and creamy that you won't believe it's vegan and dairy-free!
This recipe is great for cozy parties with friends and accompanies a hot chocolate charcuterie bar perfectly. If you want to enjoy this drink as a nightcap or for a celebration, check out our Bailey's Hot Chocolate recipe.
Jump to:
Ingredients
Oat milk - creamy oat milk is the rich base of the hot chocolate.
Unsweetened cocoa powder - cocoa powder adds a rich chocolate flavor.
Sugar - sugar adds extra sweetness to the hot chocolate.
Cinnamon stick - including a cinnamon stick subtly infuses cinnamon spice into the hot cocoa.
Chocolate - provides the rich chocolatey flavor, we recommend using a rich chocolate like semisweet or dark chocolate chips.
Vanilla extract -

adds a warm complexity to the drink.
See recipe card for quantities.
Instructions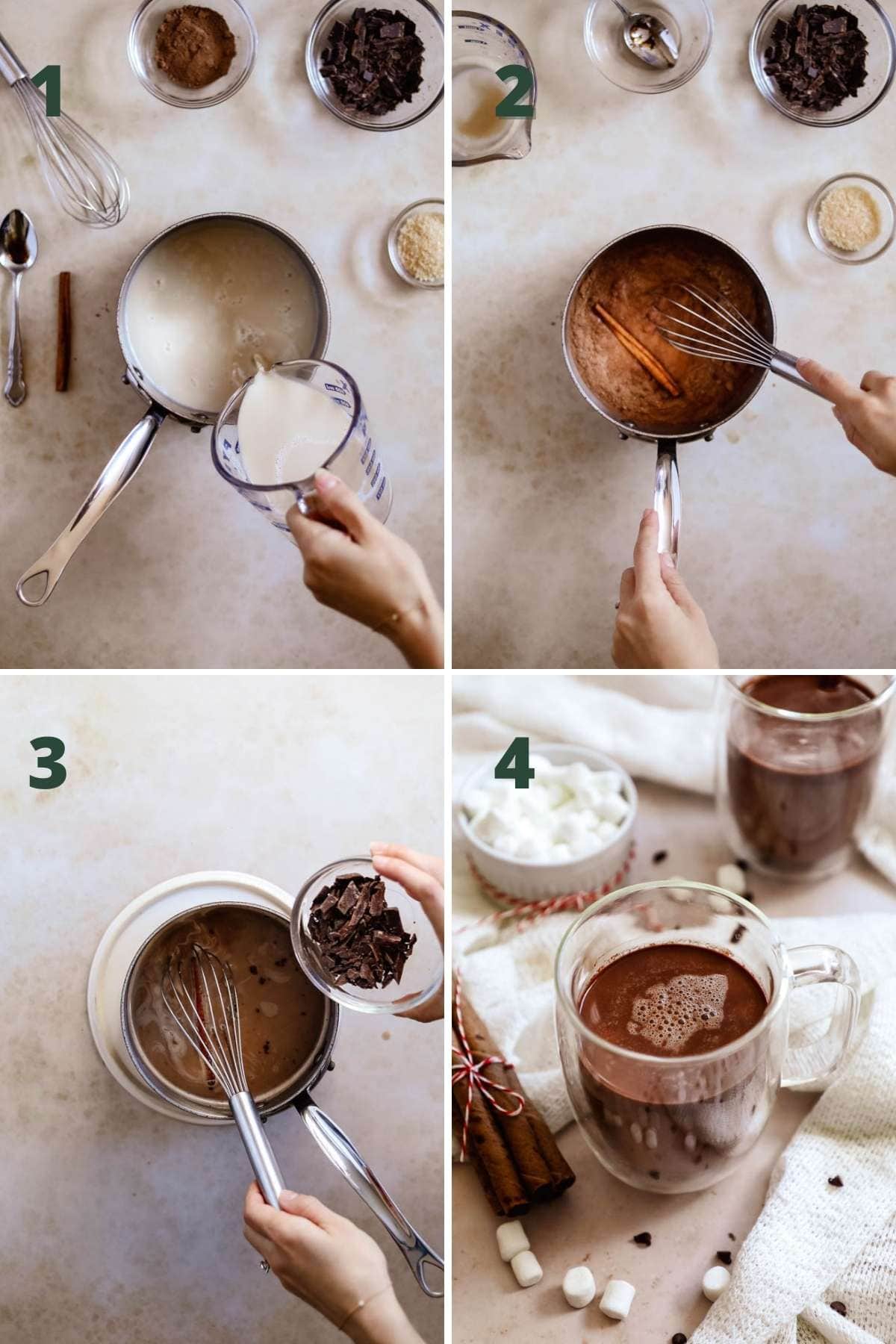 Warm ingredients - Add oat milk, cocoa powder, sugar, and cinnamon stick to a saucepan and warm over medium heat. Whisk until warm, but not boiling.
Add chocolate and vanilla - Add chocolate and vanilla to the mixture. Whisk until the chocolate is melted and blended with the oat milk.
Serve - Divide into mugs and serve immediately. Serve with regular or vegan whipped cream and cocoa powder, chocolate syrup, or chocolate shavings.
Hints:
This recipe pairs perfectly with our Hot Cocoa Bar. Our Hot Cocoa Bar features cookies, candies, and other treats that taste great with this Oat Milk Hot Chocolate.
See the recipe card for instructions to make hot chocolate oat milk in a slow cooker.
Substitutions
Milk - Replace it with a milk of your choice (regular milk, coconut milk, almond milk, etc.). This recipe works with any chosen milk.
Dark chocolate - Use high percent dark chocolate if you want to make your hot chocolate extra rich.
Milk Chocolate - Use milk chocolate if you prefer a lighter and more sugary chocolate.
Variations
Deluxe - Add regular or vegan marshmallows, whipped cream, sprinkles or pirouettes to the hot chocolate for extra pizzazz.
Kid friendly - Add a ginger bread man hanging on the side of your mug for the kids to enjoy with the hot chocolate.
Candy cane - If you like peppermint hot chocolate, add a candy cane and let it melt into the hot chocolate to add the peppermint taste.
Cookies - This hot chocolate is perfect for dipping any cookies.
No cinnamon sticks - If you don't like the hint of cinnamon provided by the sticks, omit them and enjoy the pure chocolate flavor.
Less sweet - Omit the granulated sugar from the recipe for a less sweet and more pure hot chocolate taste.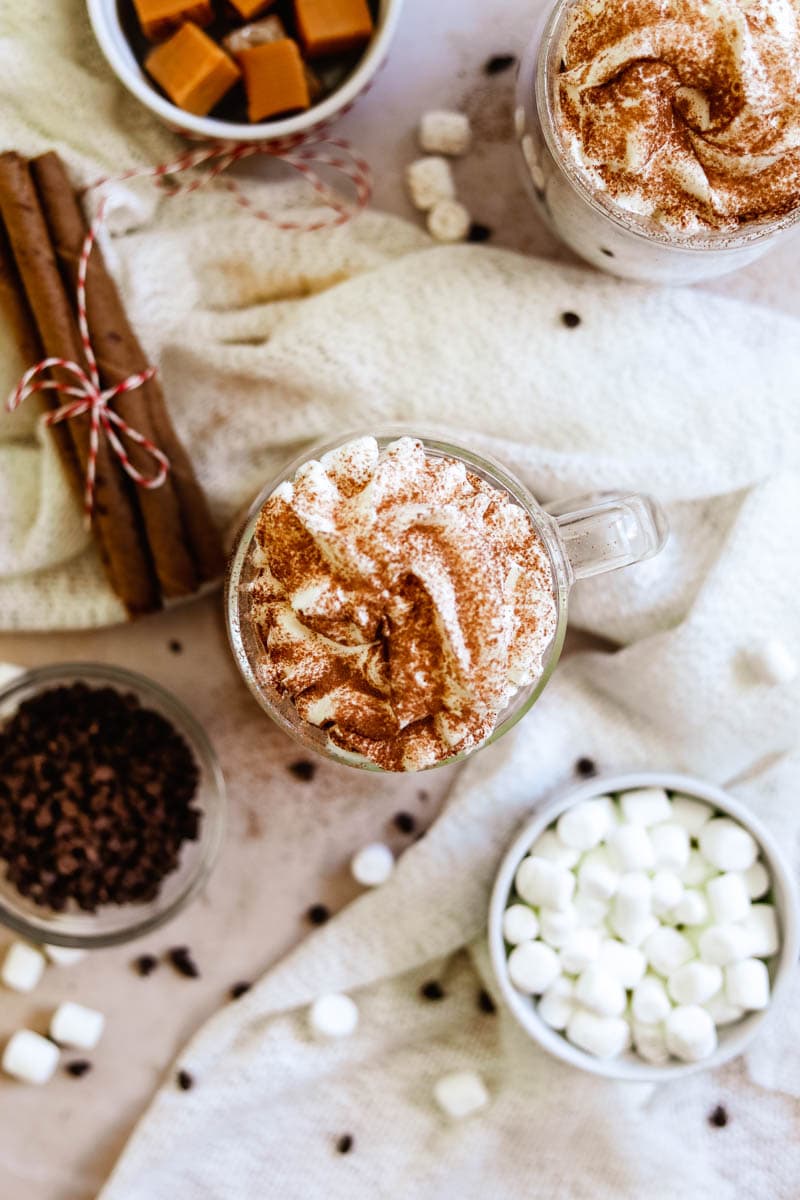 Equipment
This Oat Milk Hot Chocolate recipe requires common kitchen essentials. You need a sauce pan, a measuring cup, measuring spoons, a whisk, and mugs.
Storage
This dairy-free Hot Chocolate is best enjoyed fresh; however, you can store it in an air-tight container in the refrigerator for up to 3 days. When ready to serve, reheat it over the stove over low heat.
Top Tips
For a long-lasting hot cocoa, serve the hot cocoa in double-walled glass mugs to keep the cocoa hot and the outside cool to the touch.
To adjust the sweetness, add more or less sugar.
Whisk the hot chocolate frequently while on the stovetop so it doesn't burn.
Oat Milk Hot Chocolate
Oat Milk Hot Chocolate is a creamy vegan chocolate drink. The chocolate and cocoa powder provide the rich chocolatey flavor while the oat milk makes it creamy and smooth. It also only takes a few minutes to make and as a result, has become our go to dessert this holiday season.
Ingredients
Oat Milk Hot Chocolate
2

cups

oat milk

2

tablespoon

unsweetened cocoa powder

1

tablespoon

granulated sugar

or Demerara sugar

1

cinnamon stick

¼

cup

dark chocolate or semisweet chocolate chips

chunks or chopped chocolate

¼

teaspoon

pure vanilla extract

or vanilla bean paste
For Serving
Whipped cream

Cocoa powder

Chocolate shavings

Chocolate syrup
Instructions
Stovetop Oat Milk Hot Chocolate
Warm ingredients - Add oat milk, cocoa powder, sugar, and cinnamon stick to a saucepan and warm on medium-low heat. Whisk until warm, but not boiling, about 3 minutes.

2 cups oat milk,

2 tablespoon unsweetened cocoa powder,

1 tablespoon granulated sugar,

1 cinnamon stick

Add chocolate and vanilla - Add chocolate and vanilla to the mixture. Whisk until the chocolate is melted and blended with the oat milk, about 2-4 minutes.

¼ cup dark chocolate or semisweet chocolate chips,

¼ teaspoon pure vanilla extract

Serve - Divide into mugs and serve immediately. Serve with regular or vegan whipped cream and cocoa powder, chocolate syrup, or chocolate shavings.

Whipped cream,

Chocolate shavings,

Chocolate syrup,

Cocoa powder
Slow Cooker Oat Milk Hot Chocolate
Warm ingredients - Add milk, cocoa powder, sugar, chocolate, vanilla, and cinnamon stick to a slow cooker. Stir together ingredients.

2 cups oat milk,

2 tablespoon unsweetened cocoa powder,

1 tablespoon granulated sugar,

1 cinnamon stick,

¼ cup dark chocolate or semisweet chocolate chips,

¼ teaspoon pure vanilla extract

Cover and cook - Cover the slow cooker and cook on low for 2 hours. Stir occasionally until chocolate is melted and the mixture is smooth.

Serve - Divide into mugs and serve immediately. Serve with regular or vegan whipped cream and cocoa powder, chocolate syrup, or chocolate shavings.

Whipped cream,

Cocoa powder,

Chocolate shavings,

Chocolate syrup
Nutrition
Calories:
149
kcal
|
Carbohydrates:
23
g
|
Protein:
3
g
|
Fat:
6
g
|
Saturated Fat:
3
g
|
Polyunsaturated Fat:
1
g
|
Monounsaturated Fat:
1
g
|
Trans Fat:
1
g
|
Cholesterol:
1
mg
|
Sodium:
58
mg
|
Potassium:
165
mg
|
Fiber:
3
g
|
Sugar:
17
g
|
Vitamin A:
254
IU
|
Vitamin C:
1
mg
|
Calcium:
191
mg
|
Iron:
2
mg
Food safety