Greetings from Portugal!  It dawned on me recently that I hadn't taken an email-free, work-free vacation in over two years, so it was time to get out of town and recharge.  Portugal has been on my list of places to visit for a while, so Alec and I booked our tickets for our two-week adventure.  I was lucky enough to catch the Skylar Scent Scent Club's Wanderlust just before I left!  Wanderlust smells of papyrus, Virginia cedar, and violet leaves.  I wore Skylar's Wanderlust in Portugal every single day and could not get enough of its woody and floral scent. In fact, I'm wearing it now as I type this! 
Wanderlust in Porto, Portugal
Portugal has been a dream! We rented a car and explored Portugal's coast from Lisbon to Porto. Porto is known for its beautiful gothic and rococo buildings, which are covered in bright blue azulejos, or ceramic tiles. My favorite building was the Igreja do Carmo, which is a beautiful Baroque-style cathedral built in the 18th century. The church's blue tiles brighten the square and transport you to a different time.
Porto if full of specialty shops and colorful cafes. We stopped by a couple of different pastry shops and tried Portugal's famous pasteis de nada, a creamy cinnamon egg tart. We also enjoyed brunch at a small trendy cafe next to the world-famous Livraria Lello bookstore, which inspired J.K. Rowling's design of Hogwarts. After a few hours of exploring Porto, I was able to reach into my bag for Skylar's Wanderlust in Portugal and freshen my scent.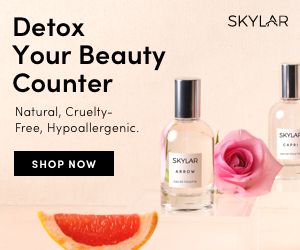 From Porto, we drove down the coast to Ericeira, a small surf town closer to Lisbon. While Alec surfed Portugal's warm waters, I read and enjoyed the sunshine on the beautiful sandy beach. I packed the essentials, including my Skylar travel-sized Wanderlust, which smelled so wonderful with the salty sea air.
Now I will always associate Wanderlust by Skylar with my incredible adventures in Portugal.
Skylar Scent Club
If you are a fragrance fan and haven't already signed up for Skylar's Scent Club, I highly recommend subscribing. For only $20 per month, you get a new limited-edition travel-sized scent, exclusive member discounts, and free shipping. The subscription is flexible, so you can skip months where you're out of town or have enough fragrances on hand. If you are a traveler, or just like to smell great all the time, I highly recommend the club and its travel-sized scents. I am so glad I was able to get a travel-sized roller of Wanderlust before my trip!
For a Limited Time Get $10 Off the Scent Club With Code SCENTCLUB10 at Skylar.com!
To read and learn more about Skylar, check out Grapefruit Honey Sake Cocktail & Capri by Skylar and Clean Beauty with Skylar.
Shop the Post